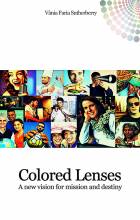 Coloured Lenses
A new vision on destiny and mission
Vania Faria Sutherberry
I was inspired by stories of people who had crossed my path to write my first novel and finally become the author I always dreamed of being. A hint of imagination and the stories in my head came to life and went straight onto paper. They are all personal and professional transformations, cases of overcoming obstacles, outcomes of focus and determination, and examples of people who discovered their mission in life.
Weaving all these different narratives with practical exercises - all summed up with my own perceptions reflecting on personal experiences - result in an easily understood self reflection. I most sincerely hope my words touch you heart when reading "Coloured Lenses - A new vision on destiny and mission".
I invite you to discover that the most essential answers to your life are all actually deep within you. My role is to help you connect with your soul's inner voice and with the values you need to realize your most genuine dreams. Sometimes, all we need is "coloured lenses" to recognize beauty in the fate before us.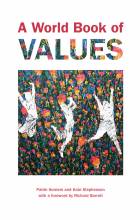 Buy now!
A World Book of Values
Patrik Somers, Kate Stephenson et al
In 2012, a group of 254 human development consultants throughout the world teamed up to write a global treaty of human values. The work came to be published in 2014 as "A World Book of Values". The initiative to produce the book that is similar to an encyclopedia of values was driven by Belgian consultant Patrik Somers and his wife Kate Stephenson.
Together, they collected all of the material written by the consultants to define which values would be contemplated by the publication. It was an honour to be invited to author six of the 370 values in the book: Happiness, Intuition, Mission, Professional Growth, Prosperity and Welcoming.
All the values in the book are the basis of human behaviour on our planet, and contrary to what we might believe, most of them are positive. Only 20% are limiting or negative. Defining all of them in one place was a fundamental step to enable people to assimilate how each value can be experienced and understood. That is exactly why "The World Book of Values" was published.
More infos? Get in touch with me
Testimonials
Previous
Vania Faria Sutherberry is a person very well oriented to successful human development! She lives her values and they are apparent in her professional approach and the way she provides business solutions. Excellent human being, with admirable inner strength. Thank you for the enriching experiences!

Vania helped me a lot with her knowledge and methodology. She touched my life. I consider her a true mentor.

When I went through coaching sessions with Vania, I realized how committed she is to delivering quality work. A great listener, always worried about showing the possible alternatives and treats of each alternative approach. I am thankful to her for the rich experience. A professional with a great cultural experience of which i have not seen before. She is a reference point for people development.

When I met Vania I was very insecure about my potential and hardly knew what kind of professional I was. When we started talking, she showed me how important self-knowledge was and that I had many skills, I just didn't recognize them. She applied various coaching techniques, to help me move forward. The results were amazing!

Vania's leadership development work and consultancy was fundamental to our project of nationalization and cultural integration.

Evolution is a keyword in Vania's work and it's no coincidence that her company carries this word in its name. Vania coached me for one year. Since the beginning, her perception of the corporate environment and its challenges was decisive for my development. I got to see barriers that I hadn't perceived before and, with Vania's help, was able to overcome them. I recommend Vania.

We made progress in overcoming the challenges of the current state of Brazil and its market through our work with Vania Faria Sutherberry. With our team aligned to the strategic plan and the company's new cultural values, we introduced a new strategic philosophy in our organizational approach.
Next